Two Daily Flights to Salt Lake City
Just a little prep work can save you time and hassle as you prepare to board.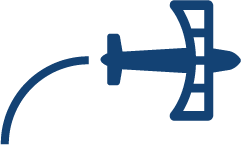 Two Outbound Flights
Departs Twin Falls at 7:30am
Departs Twin Falls at 1:15pm
Two Inbound Flights
Departs SLC at 11:20am
Departs SLC at 9:50pm
Magic Valley Regional Airport is conveniently located in Twin Falls, Idaho. View the map for the airport's location. Airport terminal hours are from 5:30 a.m. to 11 p.m., Sunday through Saturday.
Parking Is Always Free
Yes, you read that right. The Magic Valley Regional Airport offers free short- and long-term parking for travelers and visitors.