Written by Sarah Rohrbach
Winter brings incredible birds to southern Idaho!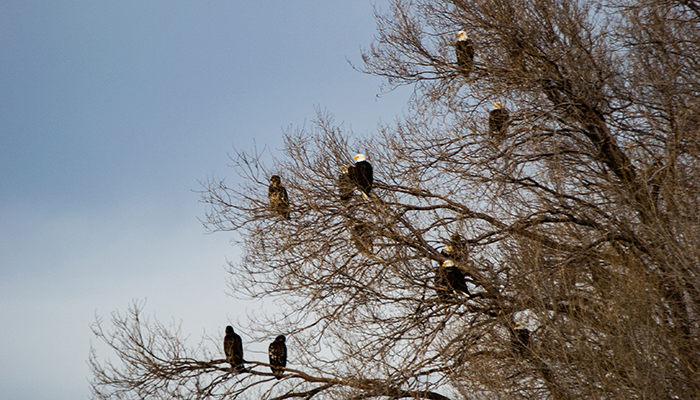 A Bald Eagle's winter goal is to conserve energy and eat. The perfect place to do so is at the Eagle Tree near Hagerman. Eagle Tree is located by the restaurant, West Point Shack, and just north of the Box Canyon parking lot. These eagles can come as early as October, but the prime time to bird watch is in January and February. This time of year, dozens and dozens of eagles come to rest at the Eagle Tree. Locals have claimed to see around 80 eagles at once! Usually, there are at least 20-30 sitting and flying around the tree.
Other great locations for bird watching near Hagerman are the ponds next to Highway 30. All of the ponds surrounding the Hagerman Wildlife Management Area host thousands of ducks! There are pull-offs on either side of the road. Be quiet and take only photos while watching. These ducks will fly like crazy if even one is disturbed. Last year's Mallard count was 25,797!
The number of American White Pelicans have increased dramatically in Southern Idaho since 2002. This has happened primarily at Lake Walcott or the Minidoka National Wildlife Refuge according to the Idaho Department of Fish and Game. Lake Walcott is located north of Rupert. Find these birds in late winter, swimming the river near the Waste Water Treatment Plant. Most bird watchers see anywhere around 200 birds at a time.
The City of Rocks is amazing to visit any time of year, but winter seasons brings all types of birds to the area. Find Northern Flickers, Black-Billed Magpie, Horned Larks, American Goldfinch and sometimes Bald Eagles. There are many birds to see, so stop in at the Visitors Center right before the park entrance and grab a trail map. The workers at the visitors center also have lots of experience birding, so ask for recommendations for the best viewing locations!
Enjoy watching the birds of Southern Idaho in our winter months!
Pin it for Later!