Written by Sarah Rohrbach
Welcome to Twin Falls! As a first time visitor you don't want to miss out on the major landmarks, or incredible local business Twin Falls has to offer. Follow our first time visitor guide to Twin Falls to maximize your experience! Staying in Twin Falls is easy because there are many options for hotels from boutique to brand spanking new. The Fillmore Inn is located on Addison Ave in the middle of Twin Falls and is our favorite boutique hotel option. The unique and dreamy hotel has a variety of rooms to suit your needs. Expect exceptional hospitality from the owner, and maybe even some homemade cookies!
First Adventure in Twin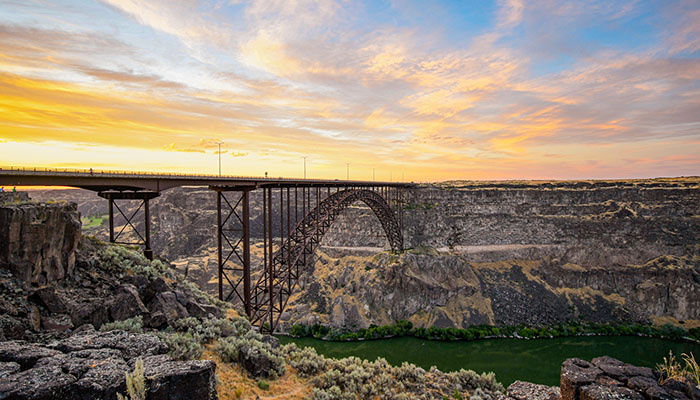 First, visit the Perrine Bridge for an epic experience! It towers 486 feet above the Snake River Canyon. Watch for BASE Jumpers walking out on the bridge to witness an incredible sight! Trained jumpers climb over the edge of the bridge and jump off!  After the parachute has been deployed they drift onto the trail below. Sunrise and Sunset are gorgeous at the bridge and will provide incredible photo opportunities. Viewing the bridge can be done from many places including the Canyon Rim Trail, Centennial Waterfront Park, or right at the Visitor's Center Parking lot. Stop in at the Visitors Center to get information about all the activities you can do in the area. They also have fun and festive Idaho gear for purchase!
Self Guided Tour of the Perrine Bridge
Kayak Rentals and Zip-line Opportunity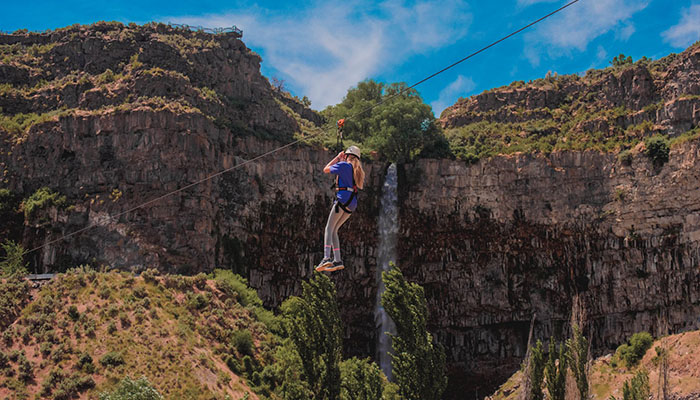 Centennial Waterfront Park is a must visit during the summer. Down here you have the ability to rent kayaks or reserve a zip-lining trip with AWOL Adventure Sports. The views down on the river are jaw-dropping, and there are many hikes nearby. Mogensen Trail is one of those, which leads under the Perrine Bridge, and it is actually the trail the BASE jumpers land on! Another hiking trail is Auger Falls. Auger Falls is a river waterfall that requires about a mile walk to get to. There are many paths all around the Auger Falls Heritage Park to explore, and you'll see canyon waterfalls in every direction here! Auger Falls itself is really gorgeous. There are perfect views looking down the canyon where the water is rushing over rocks.
Centennial Waterfront Park AWOL Adventure Sports Website
A hotel option close to the canyon is the Quality Inn & Suites. Enjoy a full hot breakfast here as well as a great pool. Nearby are a couple of local restaurants! Canyon Crest Grill has a great menu featuring all the American comfort food you could want! They have patio seating which provides a view of the Snake River Canyon. The Canyon Rim Trail is right next to the restaurant as well, and from here Perrine Coulee Waterfall is visible!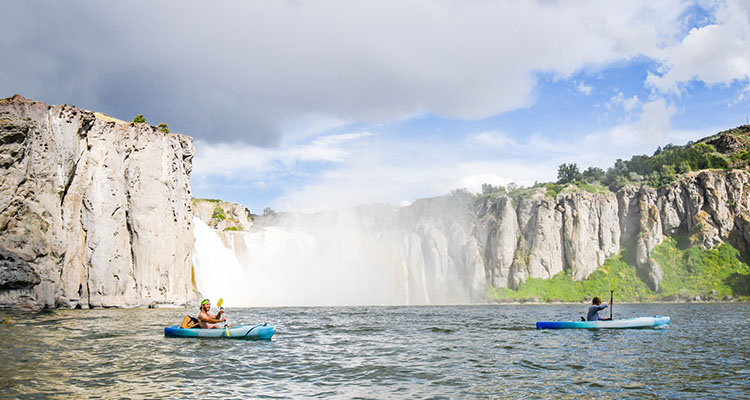 Niagara of the West
Following the Snake River upstream, the next location you can not miss is Shoshone Falls! This 212 ft. waterfall is actually taller than Niagara Falls! Visit in the spring to see it roaring at full capacity, or enjoy it peacefully flowing throughout summer, fall, and winter. Shoshone Falls Park has restrooms, concession stands, and many trails to hike along the Snake River Canyon. If you visit Twin Falls, it is a must that you see Shoshone Falls!
Everything you need to know to visit Shoshone Falls
Downtown Twin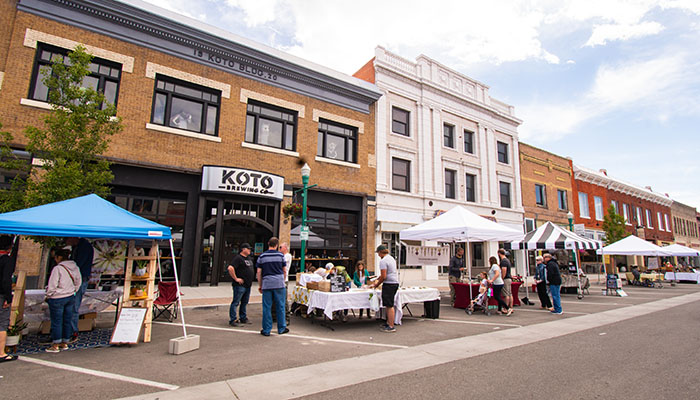 After you've enjoyed all the gorgeous nature, wander to downtown Twin. There are multiple restaurants and breweries, plenty of fun shops to browse for souvenirs, and a cool commons area. We recommend trying Koto Brewing, or Milner's Gate which is also a brewery! O'Dunkens Draught House is also a great place to drink beer and eat pizza. Every summer on Saturdays the Downtown Twin Falls Farmer's Market takes place 9AM-1PM.
Downtown Twin offers more than just dining. In the summer there is a concert series that plays in the Commons on Main Street. There is also a splash pad here for kids to run through and cool off in on those hot summer days. Go shopping at some of our favorites like the Brass Monkey or Fashion 15 Below. Rudy's A Cook's Paradise is a great place to get craft Idaho wine, customized utensils, and other fun goodies. Don't forget to try something new by reserving a lane at Bearded Axe! Bearded Axe is an axe throwing gym where they will teach you how to become a master at chucking axes.
Mountain Adventure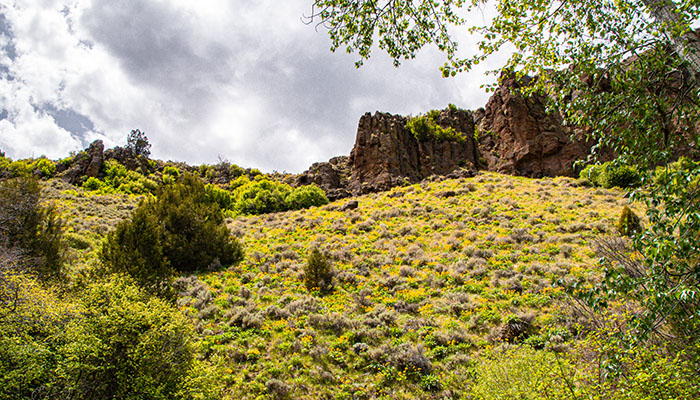 Take a little road trip out of Twin Falls and head south to Rock Creek Canyon and the South Hills. Climb out of the desert textures and get on top of hills covered in trees. There are limited amenities in the South Hills, so stop at Rock Creek General Store to fill up on gas and treats before you go. Once you're deep into the forest, we recommend stopping at Ross Falls to see a pretty waterfall. Some longer hikes with views of the rolling hills are Eagle Loop and Wahlstrom Hallow. Eagle Loop
Enjoy your time in Twin Falls! We hope you come back soon for more, so click the button to see more things to do in Twin Falls.
Pin it for Later!